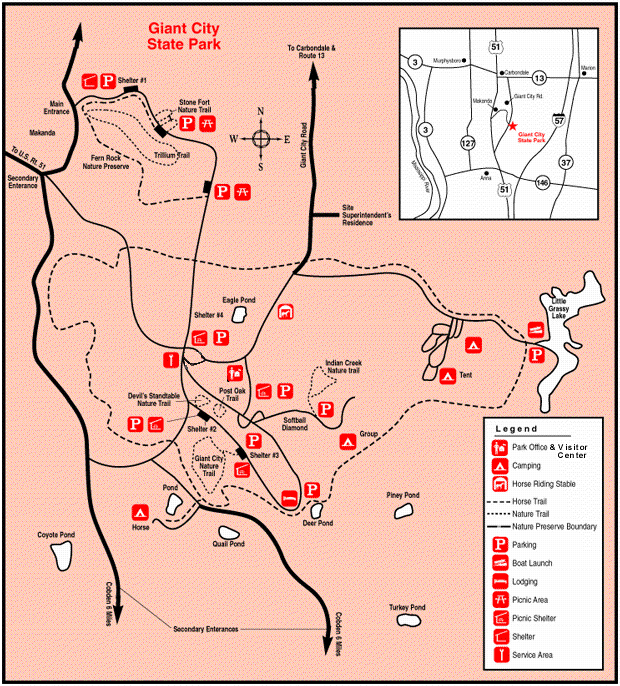 GIANT CITY STATE PARK
235 Giant City State Park
Makanda, IL 62958
(618) 457-4836
NEW: Giant City State Park Visitor Center and Schedule of Events
Site Map | Giant City Lodge | Hunter Fact Sheet
Nestled in the hills of the Shawnee National Forest lies Giant City State Park. Surrounded by enormous sandstone bluffs and oak-hickory woodlands, the 4,000 acre park is famous for its abundance of plants - especially wildflowers, wildlife, and spectacular scenery.
Once a lowland plain, this area slowly emerged from the sea which formed the northern edge of the present Gulf of Mexico. Native Americans probably inhabited the area as early as 400 B.C. Shelter bluffs, otherwise known as rock shelters, have revealed artifacts of early Native American life. Civil War era rock carvings suggest this was a popular haunt during that time period. The name "Giant City" is derived from an area in the park where giant rock formations create walls so perfect that they seem almost man-made. The sections appear to form "streets or alleys" resembling a "giant city."
A highlight of Giant City State Park is the new Visitors Center. The Center provides interpretive displays on the geology, plants, animals, and history of the park. An audio-visual room with a running 10 minute film about the park guides visitors through the interesting features. The Center also houses a unique gift shop with Illinois shirts, caps, and nature books. Visitors can pick up information about other tourist destinations in southern Illinois at the Center also.
Many recreational opportunities exist at Giant City State Park. Hunting is allowed on 2,000 acres of the park. The Visitors Center provides current information on seasons and bag limits, as well as licenses. Bank fishing is available on many ponds throughout the park. In addition, Little Grassy Lake is located near the campground and provides plentiful bank fishing. The lake is owned by Crab Orchard Wildlife Refuge. A special federal sticker is needed to boat fish on the lake. The sticker is not available at Giant City State Park.